The construction industry is essential to the US economy, infrastructure, and job market, and in Sacramento, hundreds of thousands of workers in this sector put their health and safety at risk in order to successfully execute projects for roads and highways, buildings and housing, plumbing, electrical work, and more. In construction, the risk of being injured is high; many employees find themselves exerting themselves through pain and exhaustion just to complete a job and earn a salary to provide for themselves and their families.
If an accident occurs that causes an injury, it is crucial for construction workers to be aware of their worker's compensation insurance options. In the event one finds out after the fact that they do not have any insurance to help them heal and return to work, this can be financially devastating and hinder the recovery process, too. Additionally, if you suffer any kind of injury on a construction site as a guest or visitor, it is imperative that you determine what legal rights you have in terms of your ensuing medical bills, as the owner of the site or the construction company may be at fault.
The attorneys at Guenard & Bozarth, LLP, in Sacramento, have decades of experience in assisting victims of work-related injury and accidents, including those sustained while working or visiting a construction site. Worker's compensation cases have unique needs and requirements under the law, and navigating a potential claim while coping with the mental and physical trauma of a workplace injury is a monumental strain on both the employee and their loved ones.
Incidents such as these may leave many negative factors in their wake, such as physical pain, loss of wages, financial hardship, and uncertainty, as well as issues that affect family and friends who may need to care for and support you. Our dedicated legal team can work with you from the start to help you get compensation for your hardship as you begin the healing process, however long it might take.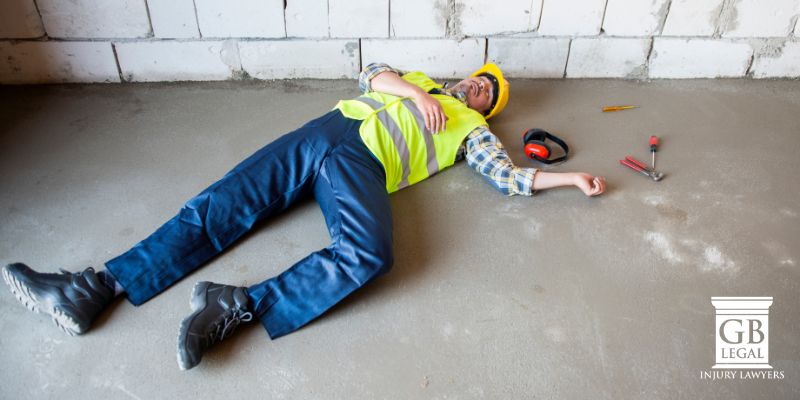 Construction workers find themselves victim to many types of accidents and injuries simply because the working conditions in this industry are unique and specific; most other industries do not require employees to do physical labor from great heights or out of doors in inclement weather such as extreme heat and cold, or rain, sleet or snow. Other unique risks are electrocution, falling objects or being struck by another object or vehicle, and head injuries, including traumatic brain injury.
Because of these inherent risks, many safety measures are enforced under the Occupational Safety and Health Administration (OSHA) in order to help protect workers from typical or common accidents. Nevertheless, many employees in construction are injured and require worker's compensation to cover the financial costs of recovery and being absent from work, among other things. If an injury is severe enough to negatively impact the worker's ability to stay employed or seek employment in another field, there will be expenses associated with not working or having a less profitable job.
Construction is a high-risk vocation with a particularly high instance of injuries, as well as injuries that are highly specific to the type of work. People who devote their careers to this industry face situations in which they put their personal safety and physical well-being on the line in order to serve others by helping innovate, update, and enhance the facilities and structures that we need to survive. The most common types of workplace injuries in construction sustained in the Sacramento area include the following:
Electrical Incidents
This type of injury is extremely common on construction sites and is the third leading cause of fatality. Electrical injuries resulting from accidents on a construction site include: burns such as flash burns from an arc flash or burns from an arc flash when flames cause clothing to catch fire, electric shocks that cause workers or visitors to fall, and electric shocks that damage a person's heart, other internal organs, or their central nervous system.
Workers or visitors are especially at risk for an electrical injury on sites with overhead or buried power lines, moving trucks, power tools, exposed wiring and unfinished electrical systems, gas-powered combustion engines, or defective equipment. Shocks and burns, even if not fatal, can cause serious internal harm that requires long-term medical treatment in order to prevent further damage, disfiguration, or death. Examples of long-lasting and permanent damage from electrical incidents are:
Scarring and disfigurement on hands, head, feet, and other areas of the body that can require surgery and physical therapy
Tissue damage resulting in infection and subsequent amputation
Hearing damage and loss
Lung damage and collapse
Muscle damage from involuntary muscle contractions
Emotional and psychological effects due to PTSD and pain
RSD (Reflect Sympathetic Dystrophy), a painful muscle disorder
While these injuries are common and even fatal in some instances, they are actually preventable, and if the injuries occurred on the job, worker's comp damages should be sought through the proper legal channels. Likewise, if a person becomes injured due to an electrical incident that turns out to be the fault of a third party, a personal injury claim will enable the victim to recover damages.
Falls
Falls are actually the leading cause of accidents on construction sites causing injury and loss of life. They can occur when workers or visitors are close to or on top of unstable worksite debris or for employees who are tasked with working on the sides of tall buildings either without protection or on scaffolding that is not properly secured or in good repair. Additionally, while working or moving through the inside of a building that is under construction or being repaired, a person can trip and fall on loose or damaged floorboards and carpeting, power cords or wiring, surfaces that become wet or slippery in the rain or immediately after cleaning, or simply because of poor lighting or due to lack of training or safety equipment.
Construction sites where a person suffers from falling, even if it is on the same level or not from a great height, can still cause grievous injury. Some falls or trips can cause bone fractures, burns, or skin abrasions, and falls from high levels can cause permanent damage to the spinal cord, massive bone fractures, traumatic brain injuries, infections leading to limb amputation, and wrongful death.
Falling Objects or Striking Objects
Objects that fall on top of a construction worker or guest at a site can cause harm to multiple areas of the body and can even be fatal. The head is especially vulnerable; falling or striking objects that come into contact with the head can cause brain damage, concussions, swelling, and can even kill. People who sustain other non-fatal injuries from this scenario may still suffer painful harm to their shoulders, neck, back, and spinal cord, sustain bone fractures, or experience an injury that penetrates through the skin and affects internal organs or the spinal cord. These accidents can be very serious even though the person survives because they may no longer be able to work due to paralysis or ongoing pain and physical disabilities.
Often, another party or person is liable for injuries resulting from falling and striking objects. These injuries usually occur due to a lack of safety at the site itself, missing warning signs or barricades regarding the imminent danger of a particular area, lack of proper supervision or training, and mechanical defects in machinery that needs maintenance or repair.
Crushing, Collapses, and Backover Hazards
A worker or visitor on a construction site can be at risk of suffering an injury if their body becomes crushed or compressed due to heavy machinery and the collapse of a building or worksite debris. Large machines, such as forklifts and bulldozers, weigh thousands of pounds. The injuries afflicted by this equipment, even if not fatal, can cause serious and permanent damage to appendages, bodily tissue, inner organs, and bones. The most fatal type of crushing incident is due to trench collapse. Because many worksites require employees to dig trenches for the purpose of running utility lines and foundations, these areas must be stored and secured properly, or the risk of collapse greatly escalates.
Repetitive Motion Injuries or Overexertion
These injuries are known by medical professionals as MSD, or musculoskeletal disorders. They arise from doing the same task over and over, day after day, and are difficult to recognize initially because they present as minor aches and pains. If the worker continues to work through the pain or treat it with over-the-counter pain medication, they can cause long-term or permanent damage to the body's nerves, muscles, tendons, joints, and ligaments.
This then leads to ongoing syndromes such as tendonitis, carpal tunnel syndrome, back pain and strain, and other health problems that can impede a person's quality of life and ability to continue working. Bricklayers, masons, and workers that do prolonged overhead drilling or use various other types of hand tools are construction workers who are at risk for these types of injuries.
Heatstroke or Over Exposure to Extreme Temperatures and Weather
Extreme temperatures can lead to heatstroke, which occurs when the temperature of a person's body reaches over 104 degrees Fahrenheit. This can then cause hyperthermia, which may lead to brain damage, organ failure, and loss of life. Because construction workers not only work outside in all types of weather but also perform physically demanding tasks for hours at a time while wearing protective gear and clothing, they are at considerable risk for HRI (heat-related injuries).
These injuries can be identified by fainting, rashes, exhaustion, and stomach cramps. The combination of physical activity and environmental factors, which include unique workspaces such as attics, roofs, runways, and crawlspaces, as well as exposure to heat through welding, paving, cutting torches, and other tools and building materials, pose significant risks for construction workers as they exert themselves completing jobs.
Most employers in California are required to hold workers' compensation insurance, especially in high-risk occupations. That way, if and when accidents and injuries happen on a construction site, this insurance is available to afford legal protection to the company as well as financial aid to the worker for medical treatment. If you are a construction worker in California who was injured on the job, you may have the option to file a workers' compensation claim directly through your employer.
Because the employer is directly involved with the insurance claim, this adds an additional challenge, as the company may not always act in good faith. Workers who are injured not only face medical bills, pain, loss of income, and grueling therapy but may also find themselves embroiled in a retaliatory situation if their employer becomes angry or anxious about the potential increase in their insurance premiums.
However, this should not deter anyone from filing a claim; there are many benefits to be had from a successful claim, which include getting all costs covered for medical treatment needed to heal from the injury, both immediate and in the future. Moreover, since the victim is often unable to work at least temporarily, they can receive disability benefits to make up for lost income. A worker's compensation lawyer can ensure neither the insurance company nor your employer holds back any compensation.
Sustaining an injury while at a construction site is devastating physically, emotionally, and financially. If another party is at fault through negligence, the guidance of a dedicated and aggressive workers' compensation and personal injury attorney will help you maximize the compensation you receive so that you can move forward healing your body and planning for your own future as well as your loved ones' well-being and care. A Sacramento-based firm will know the local as well as state-wide legal intricacies and variables and can assist you in starting a claim immediately, which will also decrease the uncertainty and anxiety you may face during this difficult time.
At Guenard & Bozarth, LLP, we pride ourselves on our experience, devotion, and compassion in crafting claims for our clients, and we can approach your specific case with personal attentiveness, empathy, and hands-on treatment to ensure you get what damages you are entitled to. Our legal team and the resources available to us can offer you exceedingly reliable and trustworthy counsel for a personal injury or workers' comp claim. If you find yourself in need of legal services in the aftermath of a construction site injury, do not hesitate to contact us for a free consultation to learn about our services.
Sacramento Practice Areas
We will promptly investigate your car, motorcycle or truck crash to pursue maximum damages.
If you were injured by someone's animal or unsafe property, we hold that owner accountable
Wrongful death is a legal term referring to a person who is fatally injured as a result of the negligence of another person or entity.
We fight back when legitimate claims are unfairly denied by insurance companies.
Bad faith litigation is becoming more common as the insurance industry continues to engage in dishonest practices that trample the rights of policyholders.
INSURANCE COMPANIES KNOW US BECAUSE THEY'VE PAID OUR CLIENTS OVER
$130 MILLION DOLLARS.