Injuries can occur any day, at any time, which is why we take precautions in our lives to protect ourselves from experiencing such instances. However, while we can account for our own actions, we cannot always account for the actions of others. When you or a loved one are injured in an accident that is not your fault, it can leave you with many questions about the unexpected expenses and lifestyle changes that have now been forced upon you. Fortunately, there is help.
At Guenard & Bozarth, our personal injury attorneys have the knowledge and experience to provide you with the answers you need at a confusing, stressful, and arduous time. From time away from work to medical bills to home modifications that may be necessary, there are several ways that your expenses will add up. You shouldn't be held responsible for the negligence of others. Our team fights to get you the compensation that you may be entitled to. We know that every case is different and should be handled with the care and dedication it deserves for the facts of that case. This allows our team to handle a variety of personal injury cases in Sacramento, CA.
Personal injury cases cover a wide range of injuries. Some of the common types of cases we handle include:
Catastrophic Injuries: These types of injuries earn the moniker catastrophic because they are life-changing for you and your family. They are often associated with some of the most expensive medical costs for not only the current treatment but future treatments as well. They can lead to a decrease in earning capacity for your job and may even require modifications to your home to accommodate your new needs. They may leave you permanently disabled for the rest of your life.
Motorcycle Accidents: Motorcycles can be a source of great fun, but they are also some of the most vulnerable vehicles on the road. They provide nearly zero protection for those who enjoy them and are difficult to see for other drivers. Motorcycle accidents can be devastating for those who are injured while riding one. Injuries can include broken bones, brain injuries, or damage to the spinal cord.
Car Accidents: Like motorcycle accidents, these incidents can cause significant injuries, including broken bones, brain injuries, and many other types of damage to the body. However, unlike motorcycles, cars provide some protection, which could limit the injuries received by their drivers. Unfortunately, car accidents are still the leading cause of injury and death in the United States, particularly in California. California allows those injured in auto accidents to file claims against at-fault drivers for negligence. These types of claims apply if you are the driver of another vehicle, a pedestrian, or even a passenger in another car or rideshare vehicle.
Spinal Cord Injuries: The spine is one of the most vital parts of the body, and injuries to the spinal cord can leave you permanently disabled. These injuries can impact your sensory and motor functions, causing considerable lifestyle changes at work and at home. These injuries can make it difficult to move, breathe, or even feel in some instances.
Brain Injuries: There are several types of brain injuries. Impacts to the brain from penetration, bruising, or any other type of injury can have different impacts on different people. Traumatic brain injuries can make it difficult for a person to move, function, and communicate. This can impact not only their home and social life but also their ability to successfully gain, seek, or keep employment. Often, brain injuries will come with a substantial amount of medical expenses, both in the short term and the long term.
Construction Accidents: Construction zones are dangerous for more than just the workers. While they may be most at risk, pedestrians and motorists are just as susceptible to accidents from debris, improper road signs, or other unsafe conditions created due to the work occurring.
Dangerous Roadway Conditions: While many accidents are caused by others on the road, sometimes the road conditions themselves are cause for concern. If roadways are improperly maintained, or are dangerous because of poor lighting, improper signage, damaged safety guards, or a number of other dangerous conditions, then you may be entitled to hold the government or local maintenance entity responsible for your injuries.
Premises Liability: Property is the responsibility of those that own it, whether publicly owned or privately owned. Personal injuries that occur because of defects in property that is improperly maintained or otherwise unsafe could hold the owner of that property responsible.
Defective Products: Some injuries occur while operating or using a manufactured product. If that product malfunctions and causes your injury, the manufacturer may be held responsible for your injuries. It is important to note that these types of cases must prove that you were using the product as intended and that it was properly maintained.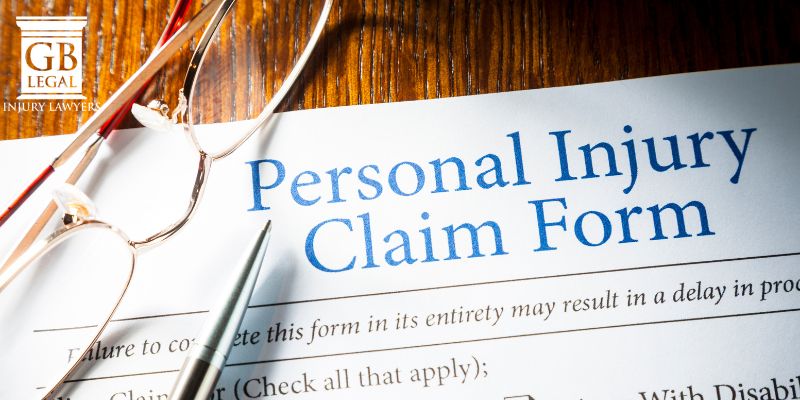 In personal injury cases, the burden of proof falls on the plaintiff. Negligence or the fault of another must fall into one of two categories. Either there is a preponderance of evidence proving they were more likely than not responsible for the injuries, or there is clear and convincing evidence that the injuries were caused by someone else. To prove either of these scenarios, you must prove the following to be true:
The defendant had a responsibility to provide a duty of care to you.
The defendant neglected their duty of care through an unreasonable action.
Their negligent behavior caused the accident or injury for which you are holding them responsible.
The injuries you sustained were directly caused by their negligent behavior.
While you may be able to prove these instances, California also utilizes a comparative negligence standard. This means that more than one party could be at fault for the injuries, including yourself. Under these guidelines, California courts can then order multiple parties to be held accountable for a percentage of the damages. If you, for example, file a claim for $100,000 but the court finds you were also partially responsible in the amount of 25%, you may only be entitled to $75,000.
If you are injured by the fault or negligence of another, you need to be sure that you have the right evidence in place to help you prove your case. The strongest types of evidence include:
Evidence From the Scene: Whenever you are involved in an accident, you should collect as much evidence from the scene as possible. Your priority should be to seek medical attention for your injuries. Next, if necessary, contact the police to file a formal police report. This is a great piece of evidence for personal injury cases, such as car accidents, motorcycle accidents, or construction sites. You will want to be sure to obtain a copy of the police report. Finally, collect information from others involved in the accident, witnesses, etc. The more information you can gather, the more your attorney can help with your case. Finally, if possible, take photos of the scene.
Relevant Physical Evidence: Physical evidence can vary and be presented in many different ways. This could include holding on to the clothes you were wearing at the time of the accident, pieces remaining after a product malfunctioned, or anything else that may be important to show others what you experienced. Without evidence, it is your word against the defendant's.
Documentation: Documentation will be key to proving medical expenses, lost wages, and pain and suffering. This could include medical records pertaining to your injuries, long-term care suggestions from your medical provider, pay stubs or FMLA documentation from your employer, and other documentation. While some injuries set in well after the accident, the closer your medical records begin in relation to the accident, the more easily you may be able to prove your claim.
Video, Photographic, or Witness Testimony: Some of the most convincing evidence can come from showing images or videos from the accident. While many people can describe the incident, being able to show what happened can strengthen your case. This can also be done through witness testimony.
While you may wish to pursue a personal injury claim on your own to save money, you may actually receive higher compensation more efficiently by hiring a personal injury attorney. Some of the benefits you can receive when working with a personal injury attorney include:
Protecting Your Rights: Even though these claims are not criminal in nature, you still have rights that protect you throughout the legal process. For many involved in personal injury claims, they feel their insurance and the other party's insurance have the injured party's interests in mind. This is not the case, and assuming so could cost you more. Their job is to settle as quickly and inexpensively as possible. However, you have a right to challenge those findings, and an attorney can help you do so.
Investigating Your Claim and Gathering Evidence: As mentioned, evidence is crucial in personal injury cases. An attorney can help you investigate your accident and determine what evidence may be needed. They can then use their resources to help gather the necessary evidence and build a case to help you.
Working With Witnesses: Ensuring that witness testimony is not only available but consistent is important in a personal injury case. Witnesses are important not only in auto accidents but in other injury claims as well. For example, witnesses could be industry experts who could speak on the safety and security of a product that may malfunction.
Drafting Legal Documentation: Many personal injury claims will need court filings and legal communications with insurance companies, other parties involved, and more. An attorney can help ensure these documents are prepared accurately and on time to keep your case moving forward.
Handling Negotiations: Many personal injury claims will go through the process of negotiation to try and settle out of court. Again, the other party will try to do so for as little money as possible. When your attorney negotiates on your behalf, you can be represented by someone who has your interests in mind and can work to hold those responsible accountable.
Representing You: Your attorney acts on your behalf during many legal proceedings. While you focus on healing, they can handle legal matters that may need your attention. Depending on the amount of compensation you are seeking, you may not need to be fully present in court, and your attorney can act on your behalf.
Q: How Much Do Personal Injury Lawyers Charge in Sacramento, CA?
A: Every personal injury case will vary, as will the costs associated with each. The extent to which an attorney needs to work on your case will determine the amount it may cost in the end. The general practice for most personal injury attorneys is not to recover any fees unless they are able to recover compensation on your behalf.
Q: What Percentage Do Most Personal Injury Lawyers Take?
A: Most personal injury attorneys do not take any compensation unless they are able to recover compensation for you. The different costs of a case will determine the percentage that they may take, should you win your claim. The average percentage a personal injury attorney will take is around 33%.
Q: How Long Does a Personal Injury Claim Take in Sacramento?
A: Each personal injury claim in California will seek to settle through a mediation process. This process can take between 9 and 18 months. The negotiation itself will only take a couple of days, but the process must also go through discovery, court filings, etc. If the case goes to trial, it will likely be over a year after the injury is sustained. In some cases, personal injury claims could take upwards of two years.
Q: How Do I Find a Good Personal Injury Attorney in California?
A: When finding the right personal injury attorney for your case, you should take several factors into consideration. These should include:
The reputation of the attorney
Their legal focus
How well you get along with them
Their communication process
Their record in cases like yours
When shopping for an attorney, be sure to ask many questions.
As a leading Northern California personal injury law firm, Guenard & Bozarth in Sacramento is committed to protecting people just like you. If you or a loved one has suffered an injury in Sacramento, or has lost a loved one due to the negligence or carelessness of another, our trial attorneys are on your side. You may be facing unexpected medical bills, property damage, lost time at work, pain, emotional stress and even more uncertainty about your future financial stability due to accident-related expenses.
Our personal injury firm is dedicated to helping you recover every dollar to which you are entitled, either through a negotiated settlement or a lawsuit in court. We use all our considerable resources, talent, and skills to go up against the largest corporations and insurance companies to achieve the goal of full compensation for you. Our team is comprised of some of the finest personal injury attorneys in California. We will not rest until you have been fully compensated for your losses. If you've been injured in an accident due to the negligence of others, contact the attorneys at Guenard & Bozarth.
TYPES OF ACCIDENTS WE HANDLE
TYPES OF INJURIES WE HANDLE
INSURANCE COMPANIES KNOW US BECAUSE THEY'VE PAID OUR CLIENTS OVER
$130 MILLION DOLLARS.